New research data policy at the University of Freiburg
Published on Friday, 03 February 2023
A new research data policy has been published by the University of Freiburg that fosters linking persons and data using identifiers.
Initiated also by the activities in the Science Data Center BioDATEN, a new research data management policy was developed together with the Chief Information Officer (CIO), the Computing Center (RZ), and the University Library (UB) at the Freiburg University. It got officially announced by the university administration: "Policy on the Handling of Research Data at the University of Freiburg". 
Another essential issue, which we had addressed through BioDATEN, is the (now mandatory) use of ORCID iD at the University of Freiburg. This is a personal identification for researchers that is particularly useful for the long-term validity of inked information of research data in repositories such as InvenioRDM, read this publication for further information. Many systems - including InvenioRDM which has been evaluated using a set of criteria - offer a coupling of data sets with ORCID. As InvenioRDM will be used for BioDATEN in the near future, using ORCID will create a benefit for researchers on the long run. This means that when research data sets linked with ORCID iDs are published on the system, researchers automatically receive a notification upon publication and can add the publication to their ORCID profile with one click. This is handled in the background through the DataCite workflow.
(DvS)
Talk on CARE principles
Published on Wednesday, 19 October 2022
Research data management usually focusses on how to exchange and reuse data. This aspect is formulated in the FAIR principles. However, ethical aspects of research data management are not focussed and there is a gap between what can be done with data and what should be done with data. This gap is addressed by the CARE principles. Although these principles were formulated by and for indigenous data, some ideas can be adapted to research dealing with other data then indigenous data. Holger Gauza held a talk about the CARE principles in cooperation with forschungsdaten.info live. As data are gaining more importance and technology advances, misuse of research data poses a serious danger.                                
(HG)
Ensuring the reproducibility of Research results by preserving access to research software and by providing a technical context
Published on Friday, 16 September 2022
The BioDATEN SDC presented at the DINI Workshop "Forschungssoftware managen" held on the 15th/16th September at Stuttgart University.
Research data can be meaningfully interpreted and reused only in the and reusable only in the respective context. Software is a central component of this context. Often software is implicitly seen as part of FAIR data management. In communication, especially with researchers, but also with other stakeholders, it helps to see research software as a challenge in its own right and to recognize its access to research results in the long term.
 Based on the rules of good scientific practice and in accordance with the FAIR principles, strategic considerations on the conditions of a long-term usability of research software were discussed. For this purpose, current developments in the legal implications, e.g. of licenses and the legal-organizational were presented. Many rules with regard to closed-code software are missing in the project setup and planning. Solutions such as mandated escrow, legal deposit, which go beyond individual specialist repositories. It would be beneficial to implement such services as well as modules for functional long-term access on an overarching level in a federated service infrastructure.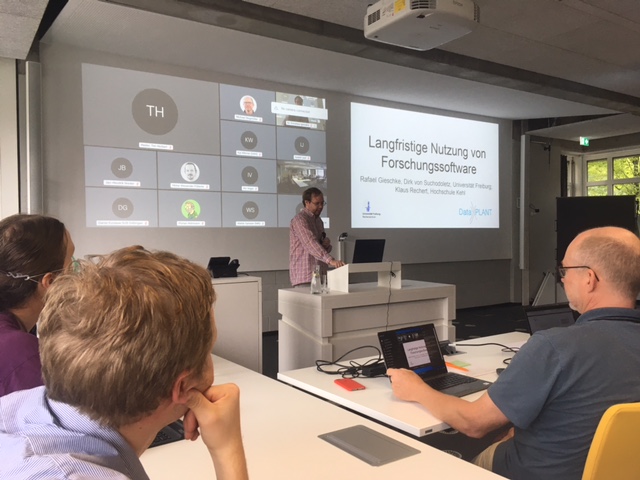 (DvS)